Equipping businesses with business intelligence innovative solutions to drive efficiency, growth, and profitability is a real passion for the Intelisense Data team. So, we decided to produce a short series of blogs to help business users understand PowerBi from the ground up! Enjoy!
Let's start with the powerful combination of Microsoft Power BI and BI Portal – two formidable tools that bring your data to life and foster a data-driven culture within your organisation.
What is Microsoft PowerBi?
Microsoft Power BI is a suite of business analytics tools that deliver insights throughout your organisation. With it, you can connect to hundreds of data sources, simplify data prep, and drive ad hoc analysis. It produces beautiful reports, and you can publish them for your organisation to consume on the web and across mobile devices. Everyone can create personalised dashboards with a unique, 360-degree view of their business.
Introducing BI Portal
A BI Portal, in the context of Microsoft Power BI, is essentially a centralised, web-based platform where organisations can publish, organise, and access reports and analytics visualisations. It serves as a hub for sharing and managing all your business intelligence assets. Imagine having a single space where all your data – from sales metrics to operational insights, comes to life in the form of interactive. A real-time visualisations that can be shared and collaborated on across your entire organisation. That is the power of a BI Portal.
Embedding Power BI Dashboard Visuals
One of the remarkable features of the BI Portal is the ability to embed Power BI dashboard visuals directly. It provides a seamless experience for users to interact with the data without leaving the portal. For instance, consider the example data report below: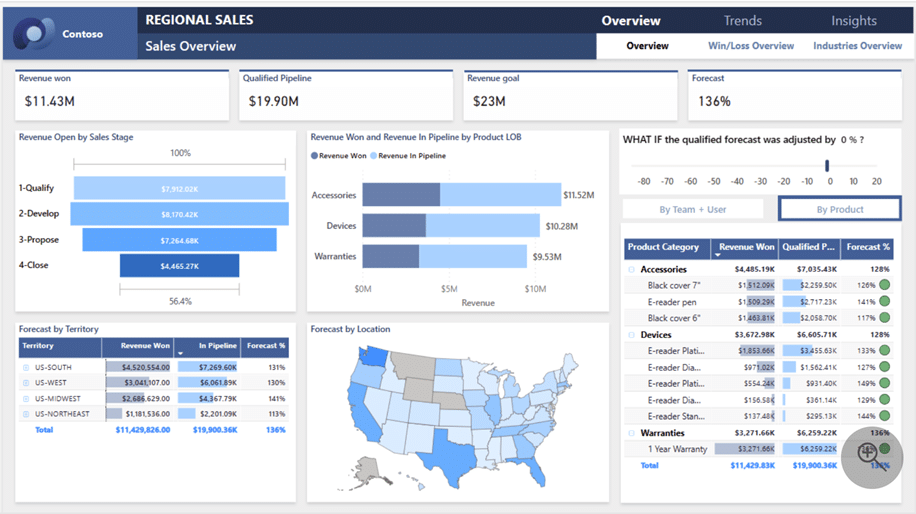 This interactive visual is not just an image, but a fully functional Power BI report embedded. In this post, allowing you to explore the data in real-time, apply filters, and derive insights on-the-go.
Transforming Business Intelligence
With features like real-time data updating and customisable visuals, Power BI and BI Portal together, offer a robust solution for organisations. Who looking to take their business intelligence to the next level. These tools enable companies to move beyond static reports, offering dynamic insights that can be tailored to specific teams, roles, or individuals. The future of data visualisation and business intelligence is here, and it is interactive, collaborative, and intuitive.
At Intelisense IT, we specialise in integrating cutting-edge technology solutions like Microsoft Power BI into your business processes. We are not just your technology providers but partners in your journey towards unparalleled business efficiency and innovation.
Want to learn more about the power of your data? Connect with one of our experts.