Microsoft D365 solution has been designed keeping the challenges and business structure of non-profits in mind. It has proven itself to be the most successful system which is depended upon by numerous non-profits across the globe.
Intelisense IT has helped many Nonprofit organizations with their own non-profit solution – Charity Unified.
IntelisenseIT's 'Charity Unified' solution helps Non-profits manage their Fundraising activities, Supporter relationships, Projects, processes, and data and increase productivity through automation.
Membership Management
It's help to track your donors, supporters and other constituents
Manage Volunteer
It's help to track your donors, supporters and other constituents
Grant Management
Streamline and Centralize your entire grants process with our Non-profit solution
Gift Aid
Auto-clame building, One-click submit to HMRC, Flexible, Secure & Recognised by HMRC
Donation Tracking
End-to-end donation processing direct from donor to database
Multi Device Access
Access and process real time data across various devices
Manage Projects & Expenses
Manage various charity projects through funding & resource management & expenses. Also, Manage project expenses and track expenditure
Portal & Case Management
Manage support cases & Grant application online through Portal & case management
Project Expenses
Manage project expenses and track expenditure
More Information about Our Solution
Membership programs are a means of incentivizing giving and involvement within non-profit organizations and associations. The organization extends additional engagement opportunities to members in exchange for donations in the form of membership fees. Payment of membership dues to a charitable organization is deductible as a charitable contribution to the extent such payment exceeds the monetary value of the benefits and privileges available by reason of such payment.
Grant Management solution
Our Grant Management solution with Dynamics 365 includes a D365 portal, Grant application is a document or set of documents that are submitted to an organization with the explicit intent of securing funding, since such applications could either come from the public or other charitable organizations the grant application form has been designed in D365 portal and hosted online for all to access.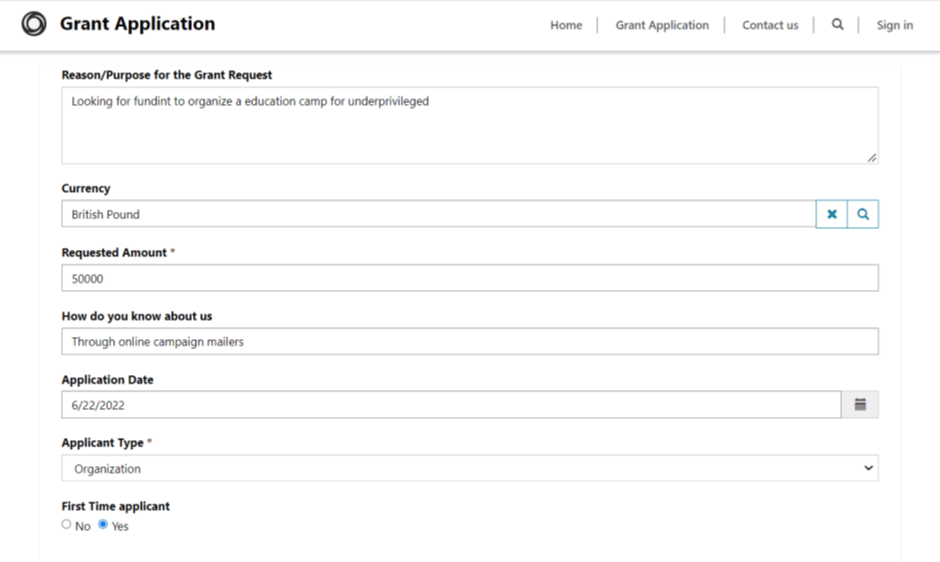 InteliSense IT created a customized solution for Gift Aid, through which Non-Profits can claim Gift aid from HMRC directly from the system, Gift Aid is important for charities and means millions of extra pounds go to the charity sector. Also, you can generate and share Gift aid declarations to the donors from the system.
A unit of work via which a non-profit, or third party, achieves Objectives is called a Project. The purpose of the project entity is to work with local partners throughout the region to develop activities such as training and education services and health in a community environment. A project Contract is the terms and conditions of the project, it defines the funding that the project will receive and the source of those funding is defined in it. Project management also provides features such as Funding sources for projects, Project expenses to track all expenditures
Leverage Data to Drive Decisions
Gain actionable insights from your data, using system dashboards and personalised views in a Non-Profit solution. Use automated reports and create your own charts and views to analyse data, drill down into individual records and uncover meaningful insights.
Flexibility to extend D365 CE in-built reporting capabilities by creating custom dashboards to meet your reporting requirements and understanding where your resources will be best focused.
Benefits of Microsoft Dynamics 365 Solution
Microsoft Dynamics 365 is a leading CRM platform in the Charity and Not for Profit sector and there are a wide range of benefits for Charities and Non-Profit organisations when implementing Microsoft Dynamics 365, such as:
Microsoft 365 Business Premium Grant
Grant is available free for up to 10 users and discounted pricing for additional users.
Best for small and mid-sized nonprofits that need email, office desktop applications, cloud file storage and sharing, web conferencing with IM, audio and HD video, and simple device management and advanced security features.